Men's Sneakers REDSKINS
Are you a sneaker lover? Are you looking for casual and sporty men's sneakers? You are in the right place ! Essential piece of the male wardrobe, the basketball is the practical and stylish shoe to have absolutely. It plays with suede, nubuck and smooth leather materials for a trendy silhouette. It is also the best compromise between the casual and dressy look. REDSKINS offers you a large men's sneakers that won't stop surprising you! The sizes of the models range from 40 to 45.
REDSKINS Men's Sneakers by material
Materials, shapes, soles, sneakers are a real fashion asset! It is constantly reinventing itself each season, it is a timeless product that combines comfort and style. Whatever the material chosen, it is advisable to maintain them well to prevent them from deteriorating quickly.
Leather sneakers are now considered real
city shoes
. For example, the model of
sneakers TONAKI REDSKINS
fits perfectly into this category. Leather sneakers are versatile by being easy to wear and matching all body types.
Men's Suede Sneakers REDSKINS
Urban and trendy, REDSKINS sneakers in suede for men are versatile and pleasant to wear. The colors (brown, black) are sober to adapt to a maximum of style.
When the good weather returns, we turn to canvas sneakers! Indeed, canvas sneakers for men are the classic of classics in spring-summer. They have the advantage of being able to match a wide variety of looks (work, everyday life, holidays, etc.). Worn with raw or faded jeans and a white t-shirt, they work every time.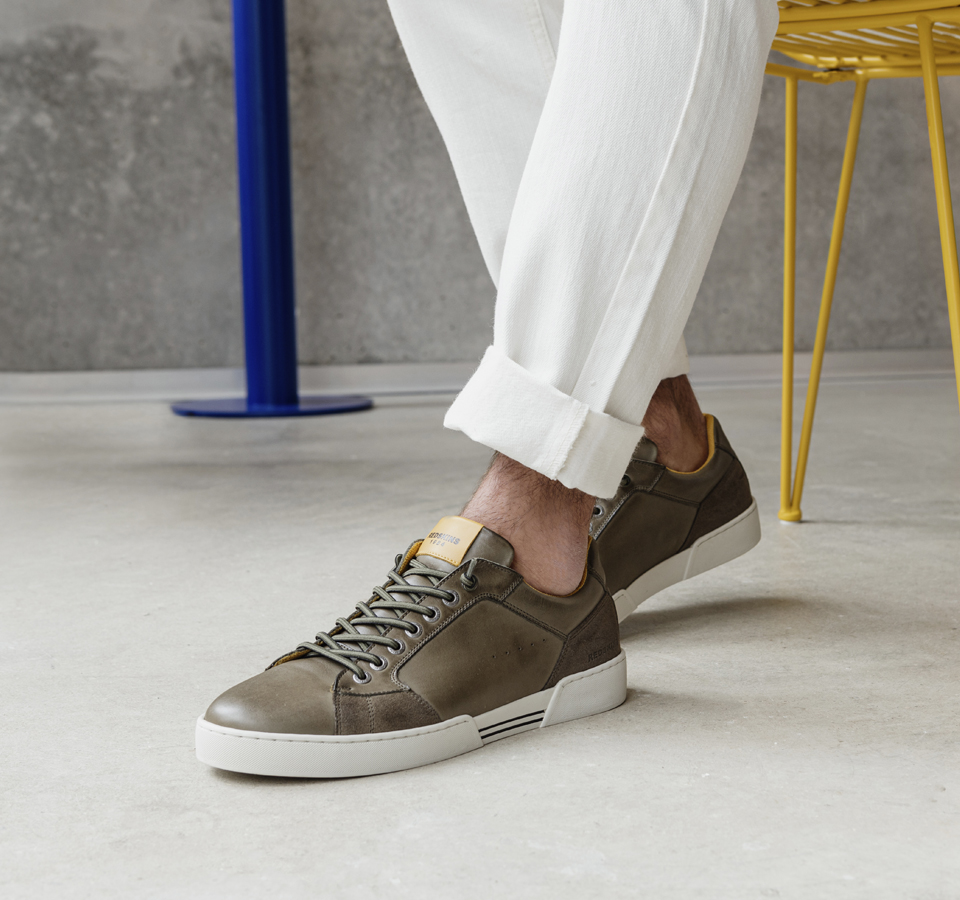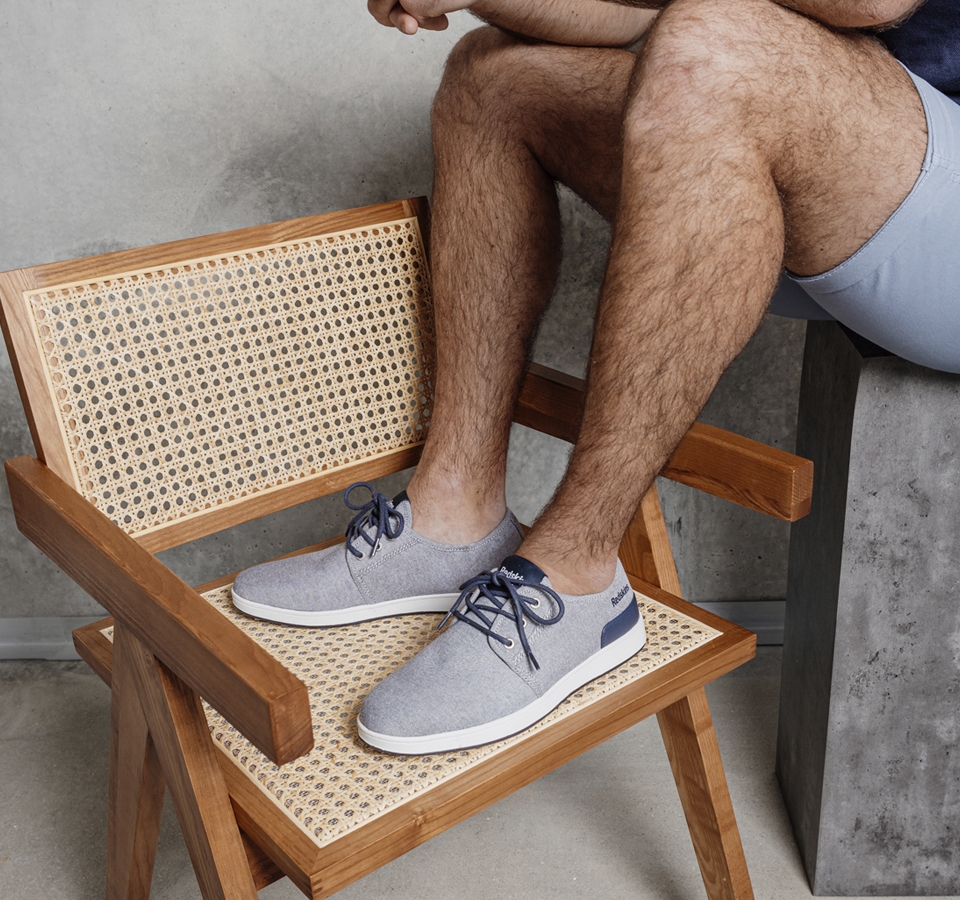 REDSKINS Men's Sneakers by type
REDSKINS men's sneakers come in different models: high, low and sportswear style (running).
Comfortable and essential to complete your outfit, low-top sneakers can be worn with jeans or chinos.
Men's High Sneakers REDSKINS
The high-top sneaker is a shape inspired by the 90s. It provides excellent ankle support and allows you to feel comfortable while keeping a city look. Its strong point? It goes with absolutely everything! Nevertheless, it tends to flatten the silhouette somewhat: roll up your jeans or trousers above the ankle! Our flagship model, the
sneakers NERINO
is ideal to associate with wide trousers. If you are tall and thin, REDSKINS high-top sneakers will suit you perfectly. However, they are less suitable for men with "short" legs. In this specific case, we advise you to favor low sneakers.
Men's Running Sneakers REDSKINS
Running sneakers are the model to adopt for a sportswear look. They are available in classic colors (black, brown, white) but also in a colored version. Colorful sneakers stand out and enhance the silhouette, especially in spring-summer, even if white or black sneakers remain a great classic in the male wardrobe.
How to match your sneakers to your outfit?
Sneakers are not only worn with sports outfits, far from it! They adapt to a large number of looks! From now on, sneakers can be worn with jeans, chinos or bermudas. They can even be associated with a ceremonial outfit, replacing the famous
derby shoes
and moccasins.
How to choose your pair of sneakers?
Beyond the aesthetic aspect, a pair of sneakers must also fulfill its main role, that is to say comfort. To choose the ideal pair of REDSKINS men's sneakers, here are the criteria:
Comfort: a trainer must be comfortable, it is essential. Your basketball must have good cushioning. A word of advice, when you have just bought a new pair of sneakers, try them on at the end of the day, it is the time of day when your feet are the most swollen. This will allow you to see if your sneakers are comfortable even in this specific case.
Lightness: REDSKINS men's sneakers are light and flexible, ideal for everyday life!
The design: obviously, you are not going to turn to a pair of sneakers that you do not like at least! A style that suits you is very important.
The price: no need to spend astronomical sums to equip yourself with a pair of quality sneakers. REDSKINS offers you a wide range of sneakers in leather, suede and canvas.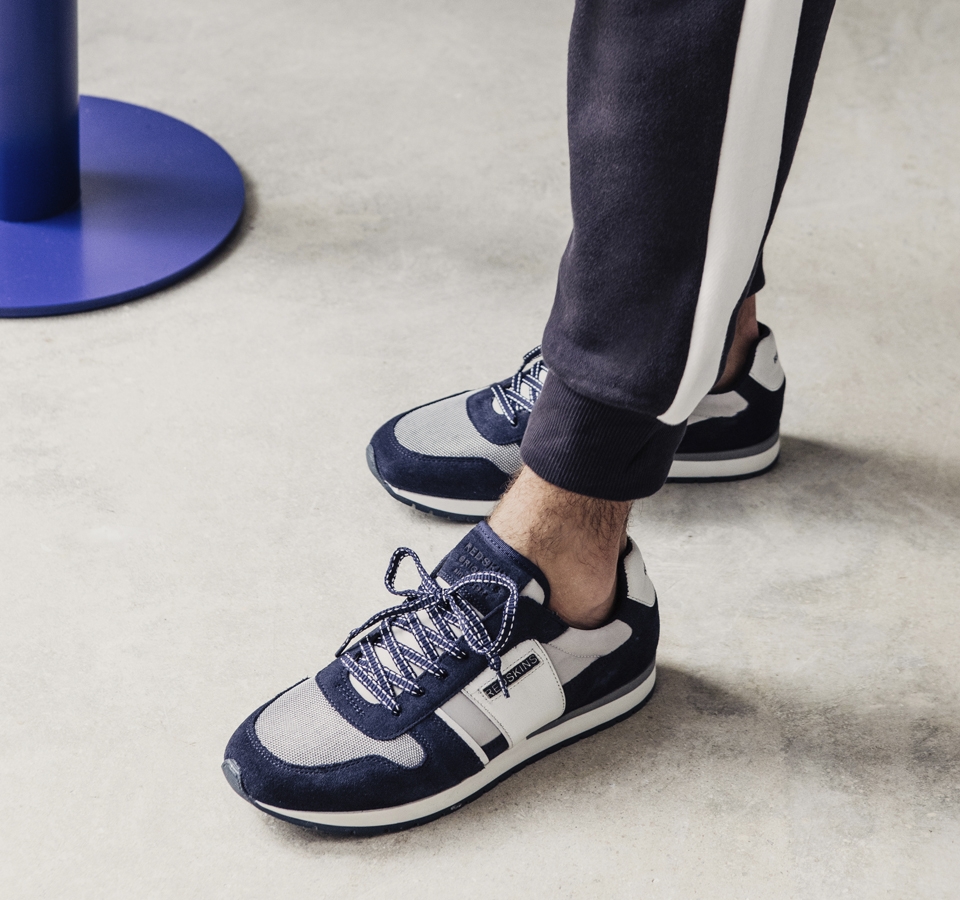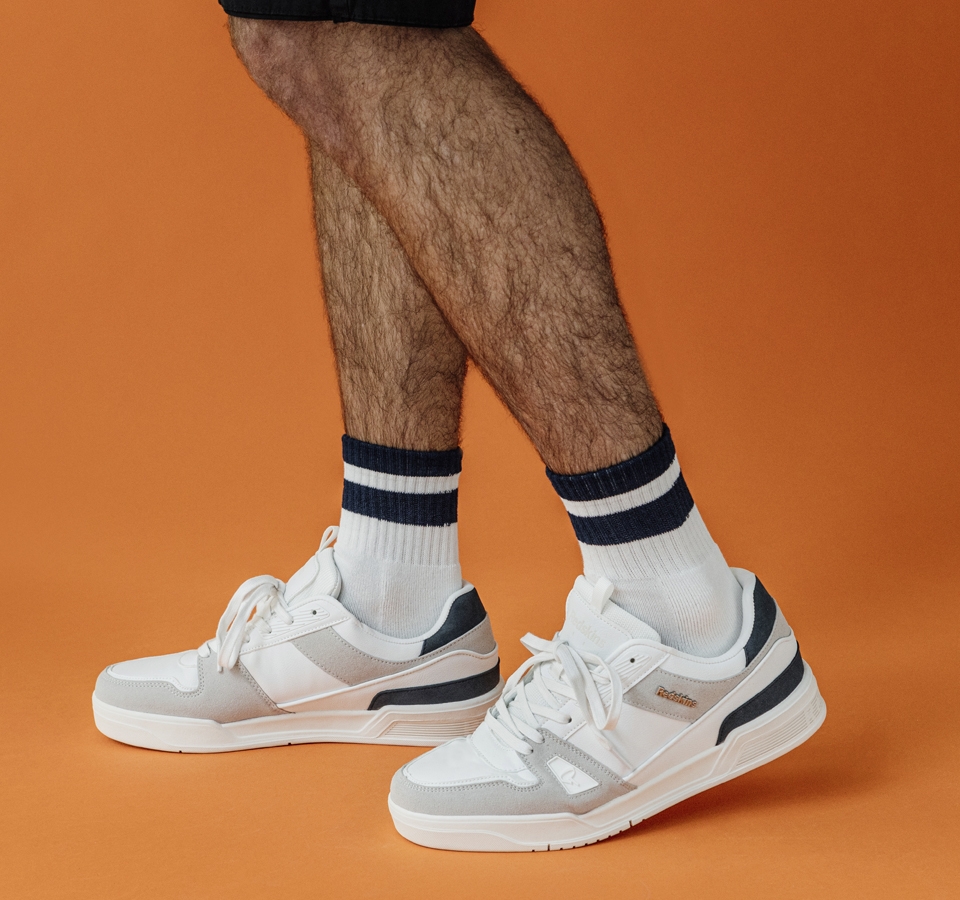 Tips for choosing comfortable sneakers
Finding comfortable sneakers can be a real challenge. Here are some tips to help you choose comfortable sneakers that suit your needs.
Take into account the shape of their foot: flat feet offer shoes that provide good arch support, while hollow feet will need shoes with additional cushioning to compensate for the lack of arch contact with the shoe. Normal feet need a shoe with good arch support and proper cushioning to absorb shock.
Avoid shoes that are too narrow: you risk having problems such as pain, irritation and even blisters. Make sure the shoe is wide enough for your feet to move freely. You should be able to flex your toes comfortably without the shoe feeling too tight.
Check the sole: it is a crucial element to ensure the comfort of your sneakers. Look for cushioned insoles that can absorb shock and provide good arch support. Outsoles should be flexible and provide good grip.
Test the shoe: it is important to walk in the shoes and test their comfort by moving your feet in different ways. Make sure the shoe is not too tight on the feet, does not rub or create pressure points. If you feel pain or discomfort, try a different size or a different model.